America's Next Top Model ALL-STAR CYCLE
POST UPDATED WITH CONFIRMED CAST AT BOTTOM
So Tyra Banks has done something truly wonderful. Not only has she finally given us a decent Cycle of America's Next Top Model for the first time in what feels like YEARS with the current one Cycle 16, but an All-Stars Cycle has been announced for Autumn (Fall if you are American), in no doubt a move to try and boost the shows flagging ratings.
But ratings schmatingz, this has potential to be AMAZING and the gayest TV show since Dynasty (or at least Sunset Beach), lets hope Tyra doesn't SCREW IT UP as normal. If she brings back the dead on arrival burns victim THALIA from Cycle 12 (nicknamed Burn-a-Dette by da fanz) I will be very upset. It has to be a pure trash cycle and forget about the fashion. An All Star cycle should be about the lulz, not Vogue Italia, half the girls will be ancient these days anyway.
According to ANTM fans, the first character to be reasonably confirmed is Sheena the hoochie Asian from cycle 11, who has been dropping heavy facebook hints about returning, who isn't exactly top of my wishlist, but I guess it could be worse. My own personal sources here in London tell me that Melrose (Cycle 7) has been approached, but whether she will actually do it I don't know.
QUEEN bi-racial butterfly JADE COLE (cycle 6) is the one that everybody wants OBVIOUSLY, and she hasn't denied it when a fan asked her on twitter, Tyra would be a bit of a fool to not include her, I mean it pretty much is irrelevant who else she casts as long is Jade is included. See her all-time classic Covergirl commercial for just one reason why she is such a legend, "beautiful, fabulous" -
My personal ideal cast would be something like this -
ROBYN (cycle 1) – Crazy Jesus-loving hypocritical church-hat modelling Robyn, YES PLEASE. Her prayer group that was blatantly aimed at sole lesbian Ebony was outrageous/amazing :
CASSANDRA (Cycle 5) – Self-confessed SOCIOPATH and took on Tyra herself by refusing to cut her hair, she had the vacant look of a killer in her eyes :
LISA (Cycle 5) – "Alcoholic bitch", the original Jade Cole, human trainwreck, famous for pissing in a nappy (diaper) and talking to trees when drunk. She better be in the house :
JADE (Cycle 6) – Look, if you do not know Jade, then you have not lived as far as I'm concerned, you probably shouldn't be reading this post :
MONIQUE (Cycle 7) – Whilst Lisa and Jade were funny bitches, this girl was plain NASTY. She only lasted a few weeks, but managed to cause more upsets than most girls do in an entire cycle. Highlights included pretending to piss on her bed, and purposely staying on the phone for about TWELEVE HOURS :
MELROSE (Cycle 7) – Monique's arch-enemy, and all round mis-understood (slightly deranged) sweetheart, Melrose just wanted the crown TOO MUCH :
KATHLEEN (Cycle 8 ) – Only managed one round of ANTM, but bought more lulz than the rest of the cycle added together. This youtube video illustrates why Kathleen was so great, and pretty much is the best 2 minutes 36 seconds you can spend in your life :
"Like I'm DESTROYING THE FUR?!" *crazy eyes* I really do LOVE.HER.
HEATHER (Cycle 9) – One of the all-time biggest ANTM fan-faves. Slightly autistic Heather could not take anything approaching a bad photo, and had one of the best personalities ever seen on the show. Adorable :
DOMINIQUE (Cycle 10) – Dominique was a bit like the craziness of Jade mixed with the desperation of Melrose. Quite how she managed to stay SO FAR into her cycle, toppling girls like the gorgeous Katarzyna by doing so I DO NOT KNOW. That she looked like a potato in drag made it all the more amusing to watch -
ALLISON (Cycle 12) – So Cycle 12 had a pretty poor cast of girls model-wise, but drama-wise it was one of the BEST CYCLES. Allison mainly avoided it, but Queen creepy-chan probably rivals Heather in terms of fan-loving, and her intelligent-akward-girl-done-good story was one of ANTM's best journeys. She also delivered one of the best photos in ANTM history, her bird shot below :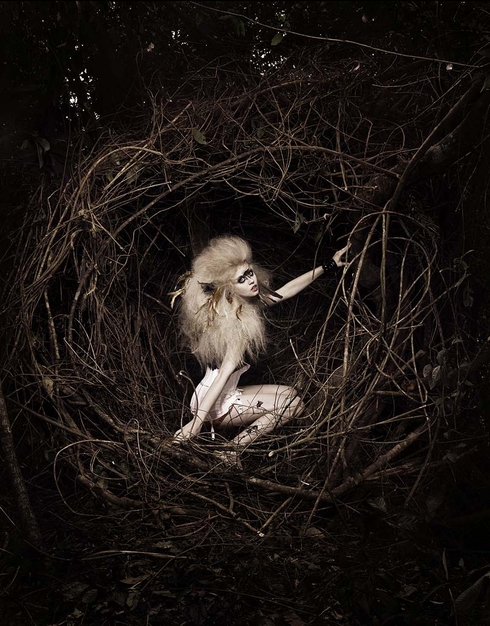 CELIA (Cycle 12) – Crazy OLD Celia. She bought desperation to a whole new level. Her showdown with Tyra Banks in her Celia VS Tahlia episode is still probably my favourite ANTM episode of all time, and despite her quirks she did seem quite a sweet person -
SANDRA (Cycle 12) and ANGELEA (Cycle 14) – Independently only Angelea would feature here. Sandra was an ANTM bitch, but a purely NASTY one in the vein of Monique (above). Angelea was a fabulous retard in the vein of Jade. However together in the casting episode they made TV gold with the best bitchfight ANTM has ever been blessed with -
"Bitch you got some ugly ass corns" – GET THEM IN THE HOUSE TOGETHER PRONTO.
MONIQUE (Cycle 16) – and finally to my last pick, spoilt brat Monique from the most recent cycle, Cycle 16. The only ANTM contestent I've seen roll her eyes at members of the public during a challenge, and then again at the Tyrant herself during panel. PRICELESS :
Robyn Manning (Cycle 1)
Cassandra Whitehead (Cycle 5)
Lisa D'amanto (Cycle 5)
Jade Cole (Cycle 6)
Monique Calhoun (Cycle 7)
Melrose Bickerstaff (Cycle 7)
Kathleen DuJour (Cycle 8 )
Heather Kuzmich (Cycle 9)
Dominique Reighard (Cycle 10)
Sandra Nyanchoka (Cycle 12)
Celia Ammerman (Cycle 12)
Allison Harvard (Cycle 12)
Angelea Preston (Cycle 14)
Monique Weingart (Cycle 16)
Seriously throw all those bitches and crazies in a house together and watch the magic happen. I mean Sandra vs Angelea ALONE would make an amazing reality tv show, never mind throwing Melrose and Monique back together to bicker over who gets to use the phone, Lisa drinking herself into oblivion and talking to trees in the garden, and Jade ambling around being a beautiful fabulous undiscovered biracial butterfly over the top of them all.
Do it Tyra, and bring back ultimate trainwreck judge JANICE DICKINSON too.
Realistically however, this is all just a pipe dream. The mix of the girls above would create the most insane/explosive TV show in TV history (probably), but I doubt it would ever be allowed due to MENTAL HEALTH issues, and also the entire world would probably implode with that gaggle in a house together.
I think we have to bank on Tocarra (Cycle 3) -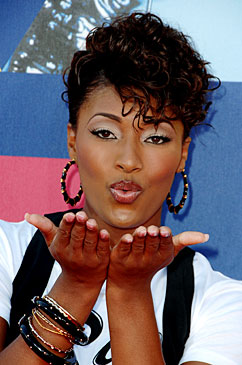 being included and crowned the winner, seeing as Tyra seems to practically WORSHIP the ground she walks on these days (even going as far as to admit eliminating her was a mistake in Cycle 16). Lest us forget that Tocarra is BIG, BLACK, BEAUTIFUL and a SUCCESS outside of the Top Model arena, surely something that will tickle all of Tyra's pickles at the same time.
I think realistically the people Tyra is likely to cast include -
APRIL (Cycle 2)
TOCARRA (Cycle 3)
JOANIE (Cycle 6)
BIANCA (Cycle 9)
LAUREN (Cycle 10)
DOMINIQUE (Cycle 10)
ISIS (Cycle 11)
SHEENA (Cycle 11)
and ANGELEA (Cycle 14)
as she seems to love those bitches and used them on her talk show ALL THE TIME, and whilst its not quite my personal list of ANTM legends, it could be a lot worse. Some fans are rabbiting on about some bitch that looks like bambi called RACHEL from Cycle 13 being cast for this and I was a bit like WHO. I hope that is not true.
Anyway, this is all set to debut later this year, and before then we have new cycles of Britain, New Zealand and the crown jewel of all Top Model shows, the truly wonderful AUSTRALIA's Next Top Model to look forward to.
BRING IT ON!
UPDATE UPDATE UPDATE 
And so the cast has been revealed! The returning girls are confirmed to be…
Shannon Stewart C1
Britanny Brower C4
Lisa D'Amato C5
Bianca Golden C9
Sheena Sakai C11
Laura Kirkpatrick C13
Kayla Ferrell C14
Alexandria Everrett C16
Woah! Considering what the cast COULD have been like, that is a pretty amazing line up! Obviously it is missing Jade, but the inclusion of the likes of Alexandria, Angelea, Camille, Dominique, Bianca and most importantly LISA just about makes up for it – that lot together in a house is going to be pretty explosive. I like that a few fan favourites made the cut too (Laura and ALLISON mainly), there are a couple of girls that will probably provide a bit of comedy relief in a non-bitchy sense (Brittany, Bre and Sheena I am looking at you), and a few inevitable fillers also (Shannon who Tyra has always adored, and Kayla who I cannot stand, whiny lesbian NOT A MODEL).
But altogether, props to Tyra, that is a really strong cast from a TV entertainment perspective. Who will win WHO CARES quite frankly, it should be Allison by all rights to give Top Model fans closure from when Teyona stole the crown from her grasp, but I imagine it will be Shannon, Alexandria, Bre or Kayla depending on the criteria for the winner is.
One response