Christopher Kane cosmic obsession
Sometimes in life you really do wish that you could un-see things. I really try not to covet or desperately want anything that I can't afford in my life, and generally I am pretty successful with this – generally if I can't afford something I know that I cannot afford it and just LET IT GO in my mind, usually forgetting about it.
It has been weeks now since I first saw the men's Christopher Kane cosmic print collection, and I still DESPERATELY WANT IT AND CANNOT FORGET HAVING SEEN IT IN THE FIRST PLACE.
To be more specific, I desperately want this sweater –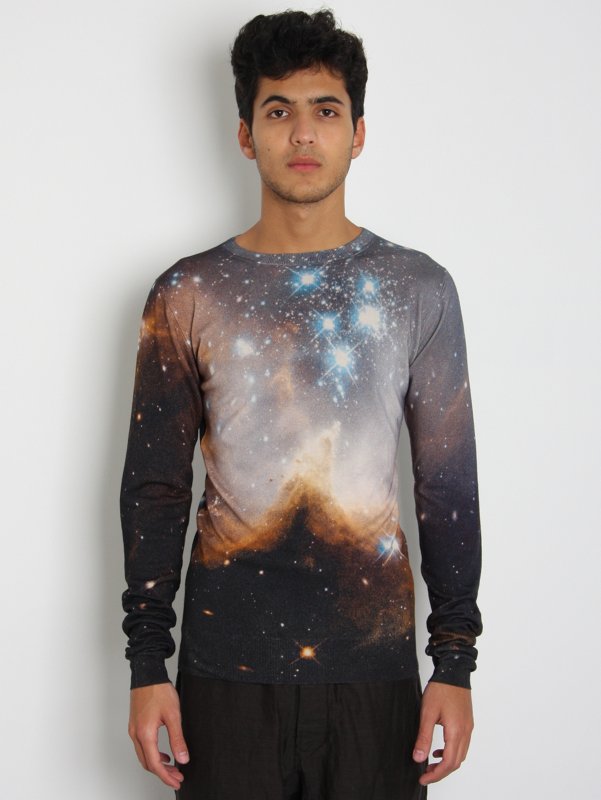 That is the best picture of it that I could find online, but to see it in more detail head over to here on oki-ni and have a look at it from all angles and super-close up detail –
http://www.oki-ni.com/mens-sweatshirts/christopher-kane-cosmic-mens-deep-round-neck-sweater/invt/kan0804mlt/
ISN'T IT JUST AMAZING?!
Previously I could have just about let the Cosmic collection go, I believe it was only on sale at Dover Street Market – if you don't go in you can't buy it, you can't want it and gradually leaves your mind right? This week however this sweater sprung up on Oki-Ni, making it about a hundred times more accessible to me, not to mention the access being twenty-four hours a day, seven days a week. The Visa definitely has to be kept away from me following a few drinks.
The sweater does of course come with a sweet price tage of £580 British pounds, if I was extremely creative with my finances I probably could just about swing it to be able to afford it, but I really cannot justify spending nearly £600 on a sweater, a sweater I would probably be far too paranoid to ever wear in case somebody put a cigarette out, or spilt something on it for example, not to mention the utter moral dilemma I would face come to the time I need to wash it ie. DO I DARE.
It is of course, a really beautiful item of clothing. Cashmire and silk mix no less, and I love that the pattern of the cosmos isn't just repeated from the front all over the rest of the sweater (as would be extremely easy and lazy to do), but that the entire sweater (including sleeves) is covered with a unique mystic star pattern. It is also extremely wearable too, and entirely fitting with my wardrobe and personal style.
I have been looking for a Cosmos covered t-shirt and sweater for SO LONG. I have a couple I have found in vintage shops throughout the years, but never I have found one that is quite RIGHT, they mainly focus on planets and (oddly) cowboys and wolves than the actual stars and galaxies themselves. I nearly self-imploded when I saw the Christopher Kane collection (image shamelessly stolen off another blog that didn't quote the original source) –
it was all SO PERFECT, but – like I said previously – too expensive for me to justify purchasing it, and too inaccessible for me to buy, damn you oki-ni.com.
One of my all time style (and life) icons is Kevin Zeger's highly troubled drug addled rent boy character in Transamerica, mainly because of the ridiculously amazing wizard print t-shirt he sports for the majority of the film –
I have made it a minor life obsession to find THAT t-shirt, or (even better) one even more amazing for myself, and this Christopher Kane collection pretty much took the biscuit. Lets hope that one day in the (near) future I get lucky at a sample sale, or my financial circumstances change drastically (for the better). Donations to help me afford buy the entire collection (or at least the sweater) shamelessly taken and appreciated.
Until the day that I can splurge £580 on a cosmos-print sweater without giving it much thought, I have had to make do with treating myself to a $20.00 solar-system print t-shirt from my absolute favourite t-shirt company http://www.themountain.com –
Not quite Christopher Kane, but not a particularly shameful alternative I feel.
3 responses